Graduation 2021 ?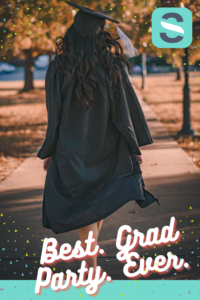 What is more exciting than a graduation party? As we head into the summer, there is nothing better than celebrating all the dedication and hard work of the ones we love! How can you use ShortStaf to make your graduation celebration one to remember? Make your 2021 Graduation Party unforgettable!
Here are 5-different ways you can use ShortStaf to make your graduation party easy and enjoyable!
Find a bartender on ShortStaf!
Thinking about serving cocktails to your guests? Instead of shaking up drinks all night, hire a bartender on ShortStaf! What does a ShortStaf bartender do? From shaking up drinks, keeping drinks replenished, monitoring drink stations, or helping your guests, they can basically do it all! A ShortStaf bartender can perform any of the duties you need them to throughout the night.  Even if you are not serving cocktails at your party, think about hiring a bartender on ShortStaf. They will be there to ensure all of your drink stations are replenished and your guests never have to worry about finding something to drink (and neither do you!).
Don't do set up alone. Find set up help!
Before any party, there is always so much preparation. Between food, drinks, and decorations, you most likely have your hands full. Don't rush to get it all done. Find set up help on ShortStaf to make setting up for your party easier than ever. The set-up help position on ShortStaf can put up decorations, set up food and drink stations, move around tables and chairs, and basically tie up all those last minute loose-ends before the party starts! Have an extra pair of hands available to help you so YOU can enjoy!
What about the food? Find a server!
By hiring a server on ShortStaf, you can have help with all things food! From passing appetizers to setting up and serving platters, they can do it all. If you are going for a more relaxed buffet style, ShortStaf servers can ensure that the buffet area stays clean and replenished for the entirety of the event. ShortStaf servers can help you clean as you go, so there isn't a big mess to clean at the end of the night. Have help with the little things so you can focus on your graduate.
Thinking about grilling? We can help with that too!
If you are a person who would like to mingle with your guests instead of being stuck at the grill all night, try hiring a grill cook for the evening! They can tend to the grill, keeping you and your guests fed. They can help you prepare all the food you have planned for the night.
Cleaning up has never been so easy…
Saying goodbye to your guests at the end of the night means saying hello to all the party clean up. With ShortStaf, you don't have to do it all alone! You can choose the clean-up position on ShortStaf to help take down decorations, break down food and drink stations, clean plates, pans, and dishes, move tables and chairs, and SO much more. With help from ShortStaf, cleaning up your party is fast and efficient.
Use ShortStaf for your graduation party to have all the help you need. Celebrate your graduate and enjoy time spent together! Download the free ShortStaf App today and post for on-demand party staff to make your party a breeze! Congratulations to all the graduates of 2021! 
For more information, recipes, and ideas… visit our blog or check out our Pinterest page!
https://shortstaf.com/wp-content/uploads/2021/05/Grad-party-blog-header.png
900
1600
Spencer Englander
https://shortstaf.com/wp-content/uploads/2018/08/logo.png
Spencer Englander
2021-05-21 11:19:36
2021-05-21 11:26:50
Graduation Party 2021