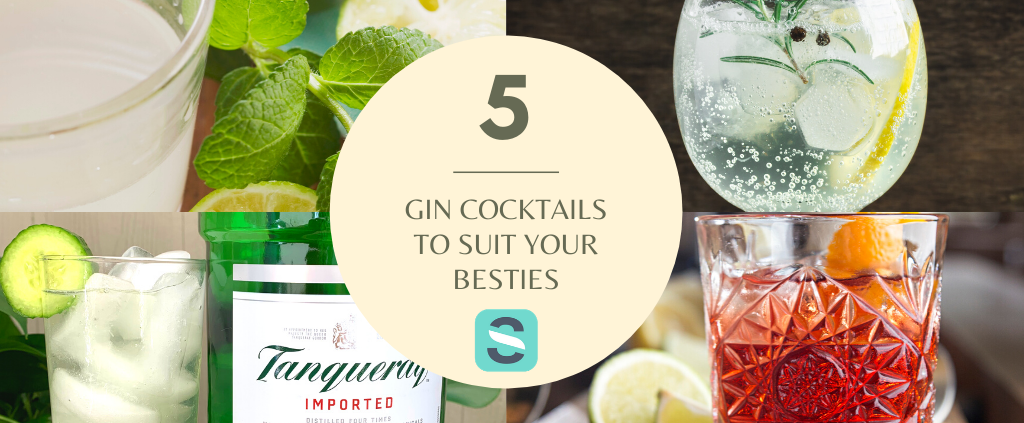 The warm weather is here and we have the perfect cocktails to pair with sunshine, good times, and great company (yes, virtual company included). This year gin is making a huge comeback. It is light, easy to drink, and has a distinct botanical flavor. The best part? There are SO many different ways to serve and enjoy it. You can cater to your entire friend group with these different takes on a classic spirit. For your next party (or FaceTime bonanza), think about sipping something new and different! Here are 5 different gin cocktails to suit your diverse friend group. 
Gin and Tonic 
Friend Profile: Your friend who loves gin. They have tried everything and always fall back to their favorite (that is also a classic). They don't measure. They pour and go. Their measurements are probably 3/4 of the way gin, 1/4 tonic. And we are okay with that. 
Recipe: *Doesn't matter*…making it for someone else?
Here is the recipe so you can make it:
2oz Gin
4oz-5oz of tonic
Garnish with lime wedge
Cucumber Lime Breeze (ShortStaf Recipe) ?
Friend Profile:  Peppy, bubbly, and wholesome. They say they are simple, but seek complex conversations, relationships, and cocktails. They always ask for a drink menu when you go out, scouring over each option- making sure the cocktail matches their mood. They rarely order the same thing twice. You can never order a drink for them because their preferences are always changing. 
Recipe:
3 slices cucumber
2oz Gin
Whole lime (cut in half and juiced)
This cocktail is shaken in a tin and strained over ice
Top the mixture with sparkling water
Garnish with a cucumber slice
Want to see how it is done? Watch our video and get more detailed instructions here!
Bees Knees ?
Friend profile: They are an optimist, love parties, and go for anything yellow. The pale, lovely color of this beverage matches their dazzling personality. The bees knees cocktail is little sweet, with the perfect amount of sour (just like your friend). They probably mention how this a prohibition era cocktail. (because they enjoy fun facts, and so do we).
Recipe: 
2oz gin
3/4 oz fresh lemon juice 
1oz honey syrup (what is honey syrup? Equal parts honey and hot water, stirred)
This cocktail is served up (shaken to perfection and strained into a martini glass…or solo cup. We don't judge).
Negroni ??
Friend profile: Straightforward, strong, and to the point, just like this classic Italian cocktail. It only has 3 ingredients (that are all alcohol). The Negroni is a cocktail that grows on you. In the same way your friend approaches friendship, by the end of the conversation (or cocktail), you can tell that you guys will be BFFL. 
Recipe:
Equal parts (1oz)  Campari, Sweet Vermouth, and Gin
Served on the rocks
Gin and Juice ?
Friend profile: Probably hasn't had gin before, but is totally up to give it a try. Has a great attitude when it comes to trying new things. Even if they don't like it, they say something along the lines of "it is good! but maybe it just isn't for me". When it comes to gin and juice, they LOVE it. The ambiguity of the mixture entices them. Let them pick the juice of their choice and they are sure to be sipping their new favorite all night. 
Recipe: 
1oz-2oz gin
4oz-5oz juice
(based on personal taste)
Served on the rocks
Now, you have a gin cocktail to match the taste of ALL your friends! Enjoy one (or all) (responsibly) of these cocktails for your next party, virtual hangout, or in the comfort of your home. Cheers to that. 
https://shortstaf.com/wp-content/uploads/2020/04/new-blog-header_gin-for-friends.png
512
1024
Lena Halverson
https://shortstaf.com/wp-content/uploads/2018/08/logo.png
Lena Halverson
2020-04-21 16:37:26
2020-04-25 18:40:48
5 Gin Cocktails to Suit Your Besties