Your effective staffing solution in response to  COVID-19
We understand the challenges presented during the COVD-19 crisis. You may have been forced to make the difficult decisions to lay off employees, close your locations, and bring your business to a grinding halt. When operations resume, we're here to help you get back – and be better than ever. ShortStaf is 
your

staffing solution.
When it's finally time to re-open, you will need to meet an entirely new set of guest expectations; putting pressure on your management and staff.  As business quickly ramps up – you will likely find that some of your furloughed employees have moved on to other opportunities.  You won't have time to build lengthy job postings, post on job boards, and sift through a stack of people who don't meet your needs.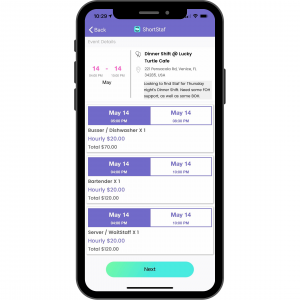 Rather than be stuck at square one, building a new team – let ShortStaf help. ShortStaf offers you the ability to quickly post for Staf – review your applicants, hire your selections, and complete secure payment – all through the easy-to-use app.
Staffing based on fluctuating and uncertain demand is extremely challenging. With the ShortStaf app, you have the flexibility to hire based on your needs without the constraints of traditional full-time employment – all within as little as 2 hours prior to the shift.
You specify all the details – time, attire, responsibilities, and anything else you see fit.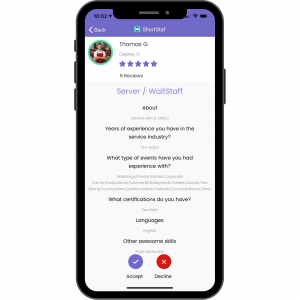 With ShortStaf, you can complete your job posting in minutes and have access to our database of local. on-demand, qualified applicants with robust profiles including: level and type of experience, profile pictures, certifications, and ratings/reviews.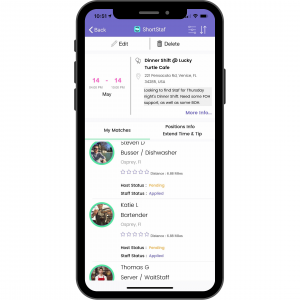 Find qualified Staf to fit your unique needs: bartenders, banquet servers, hostesses, greeters, line cooks, servers, dishwashers, door security, event hand, and many more! (Don't see a position that you're looking for? Just ask!)
View your applicants in one organized, easy to manage platform – all from the palm of your hand.
Now you have access to Staf in your area with no commitments or contracts.  Paying on the app is simple and secure.  There's no sign-up fee, maintenance fee, or recurring charges for your use.  Pay only for the Staf you select.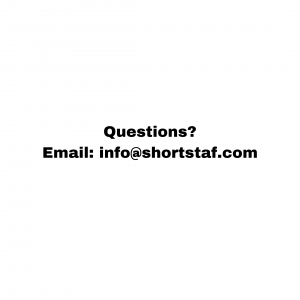 Search for us on the App Store, or Google Play Store – or click here for the link to download on your mobile device!
https://shortstaf.com/wp-content/uploads/2020/06/blog-header-staffing-solution.png
512
1024
Spencer Englander
https://shortstaf.com/wp-content/uploads/2018/08/logo.png
Spencer Englander
2020-06-08 10:36:25
2020-06-08 10:37:05
Staffing Solution: COVID-19