Smoked Thanksgiving Turkey: Done Right
Our smoked turkey recipe is complete with ingredients, step-by-step instructions, and turkey day smoking tips. Don't miss out on the best recipe around, perfected by ShortStaf CEO – Brenden Curcio.
Thanksgiving is almost here, and it is time to start thinking about how you are going to cook your Thanksgiving turkey! Instead of baking or deep frying, we are smoking our bird this year. Smoking the turkey gives it rich flavor and a beautiful, crisp skin. With this technique, the whole family is sure to enjoy (and be impressed). Read below for how to smoke your very own Thanksgiving Day feast.
INGREDIENTS:
(1) 14-16-pound turkey, fresh or thawed
(½) cup salted butter
(1 ½) teaspoon fresh rosemary, chopped
(1 ½) teaspoon fresh thyme, chopped
(2) oranges with zest, quartered
Olive oil
Salt and pepper
Butcher twine
INSTRUCTIONS:
Soften the butter to room temperature and mix with the chopped rosemary and thyme.
With a pair of poultry shears or knife, cut off the wing tips (or they'll just burn)
Dry the turkey with paper towels. For crispy skin, leave the turkey uncovered in the refrigerator overnight. This is our favorite way to prep.
Starting at the bottom cavity, use your fingers to separate the turkey's skin from the breast meat, be gentle and go slowly. Work slowly up towards the neck being careful not to split or tear the skin. Take the butter, chopped rosemary, and thyme mixture and spread underneath the skin you just separated.
Rub olive oil all over the turkey. Now, season the outside of the turkey with salt, pepper, and the orange zest. Also, salt and pepper the inside of the turkey cavity and stuff with the quartered oranges and some additional rosemary and thyme. They deliver an amazing amount of additional flavor and help keep your turkey moist and juicy. You can also rub the butter mixture on the outside of the turkey, and cover with a cheesecloth.
Prep your fire ring or fire box with briquettes and your favorite wood.  You will roughly cover with ¾ of a bag.
Fill a charcoal Chimney Starter half full with briquettes (We love Weber briquettes) and light with Lighter Cubes.
Since this is a hot cook, there is no need for water in the water pan if you use one, although feel free to use just a little in there with some chicken stock – and cover the bottom with foil to make the clean up a little easier.
Once the coals in the chimney have turned grey and ashed over, dump them over the unlit coals in the base of the smoker or firebox and let sit for about 10-15 minutes.
If you plan on making DELICIOUS pan gravy, be sure to place a disposable foil tray on the lower grate of your smoker, which will allow for it to gather some very valuable juices.
Smoking the Turkey
Smoke the turkey over medium low heat, 300-350 F. As the smoker climbs towards 300 F, place the turkey on the grate. We recommend using an electronic or Bluetooth temperature probe to monitor the internal temperature. We always use the iGrill mini for smoked meats and love it. Place that probe in the deepest part of the turkey's thigh, trying not to touch any bone.
Close the lid and try not to peak too much. This will keep the heat in. The temperature probe will tell you all you need to know.

You are looking to pull the turkey when that thigh reading hits 165 F. A safe estimate is about 15-20 minutes of cook time per pound, but experience tells us that every turkey seems to be a little different.
We use between 4-6 medium chunks of wood on the hot coals. A sweet wood is delicious – like applewood! Feel free to use hickory or mesquite!
If your fire burns too hot, you may have to close some of your vents halfway. If you are battling cold weather and need to keep the temperature up, add 8-10 unlit briquettes every hour. (15-18 minutes of cook time per pound).
Before you carve into that beautiful bird  – take a picture of your smoked masterpiece. Don't forget to tag ShortStaf!
TIPS:
Don't forget to remove the giblets and the neck from the turkey cavity before prepping! 
If you don't want a really dark skin color, you can lightly cover your turkey with a cheese cloth that was soaked in some meted butter or chicken broth.
Don't skimp on the butter, rosemary, and thyme mixture. The butter under the skin gives your turkey an amazing flavor and keeps it juicy and moist! You can add additional butter to the outside of the turkey and cover with a cheesecloth.
Keep the lid closed! Trust the temperature probe and just monitor your grate or dome temperature, adjusting vents accordingly.
Thank you for reading and we hope your smoked turkey comes out amazing!
As always, ShortStaf is here if you need extra help this year.
Just download the app and post for servers, bartenders, set up, clean up, and so much more.
Enjoy time with friends and family, and don't get stuck doing all the cleaning and cooking!
Happy Thanksgiving from ShortStaf!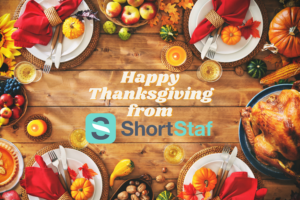 Post your smoked turkey on our Facebook page or tag us @shortstafapp. For more recipes, ideas and information: check out our blog or Pinterest page. 
https://shortstaf.com/wp-content/uploads/2020/11/smoke-your-turkey-blog-header-1.png
450
800
Lena Halverson
https://shortstaf.com/wp-content/uploads/2018/08/logo.png
Lena Halverson
2020-11-12 10:34:35
2020-11-12 10:45:14
Smoked Turkey: Thanksgiving