The holidays are looking a little bit different this year. Many people are skipping the travel and opting to stay home for Thanksgiving. While it is sad to miss friends and family on a holiday like Thanksgiving, we can still make it fun and enjoyable. Here we have 3 ways to make your small Thanksgiving one to remember.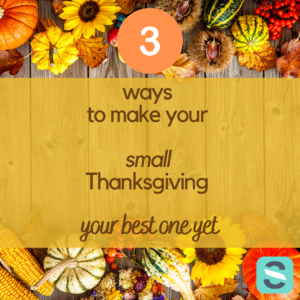 Try cooking something new!
Every year we have to make a mental list of what people do and do not like. Aunt Kathy doesn't like raisins, Tom doesn't eat dairy, and Trish won't eat turkey. This year, you can focus on what YOU like. Cooking for an entire extended family takes time and preparation. Since your Thanksgiving is going to be smaller, take the time to cook one of your favorites.  Why not try something new? Find a new recipe and switch it up this Thanksgiving, you will be happy you did – and you might make a new tradition.
Enjoy
Thanksgiving is a day filled with hustle and bustling- cooking, cleaning, decorating, and making sure everything runs smoothly. If you are used to multitasking while ensuring a smooth and fun day for everyone, you can use this time to…relax. Take a much-needed break. Forget the hustle and bustle and enjoy the small things. Make your favorite foods. Take your time and enjoy the day. Try a new recipe. Thanksgiving is a day centered around giving thanks and being grateful. Instill those values in your holiday by appreciating the small things.
Take advantage of virtual hangouts
Instead of missing out on seeing family, make it a point to connect with them virtually. Whether your tradition is happy hour before dinner, or game night after, you can still make it happen from a far. FaceTime or Skype with loved ones to keep tradition alive and spend quality time together. Just because we aren't physically close, that doesn't mean we can't enjoy each other's company.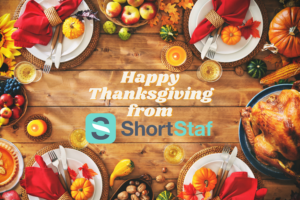 This Thanksgiving, make it a point to celebrate your way. Enjoy your favorite foods and try cooking something new. Indulge your way by taking the day slow, relaxing, and appreciating the small things. And finally, don't forget your friends and family! You can still connect and enjoy their company, virtually. So, this year, let's give thanks and be grateful (that 2020 is almost over). Have a Happy Thanksgiving and enjoy!
For more information, recipes, or ideas: check out our blog or visit our Pinterest Page! 
https://shortstaf.com/wp-content/uploads/2020/11/small-thanksgiving_blog-header-2.png
450
800
Lena Halverson
https://shortstaf.com/wp-content/uploads/2018/08/logo.png
Lena Halverson
2020-11-10 11:04:53
2020-11-10 11:14:58
Thanksgiving: 2020